In the venerable TV commercial from the 1970s they trick Mother Nature into thinking that Chiffon Margarine is her "sweet, creamy butter," and she wrathfully declares that, "It's not nice to fool Mother Nature!" The Fed and the politicians should take a lesson from the old gal and realize that, not only can they not make margarine taste like butter, they also cannot make a great economy by depressing interest rates and spending insane amounts of borrowed money. In fact, these actions are more likely to backfire and cause negative economic repercussions to be much worse than they would be otherwise.
While short-term rates have been flattened, longer-term rates have been responding to the probability that big-time inflation is headed our way. Note that all yields above the 2-Year Note have been rising since the August lows, and the 30-Year Bond yield has risen about +70%.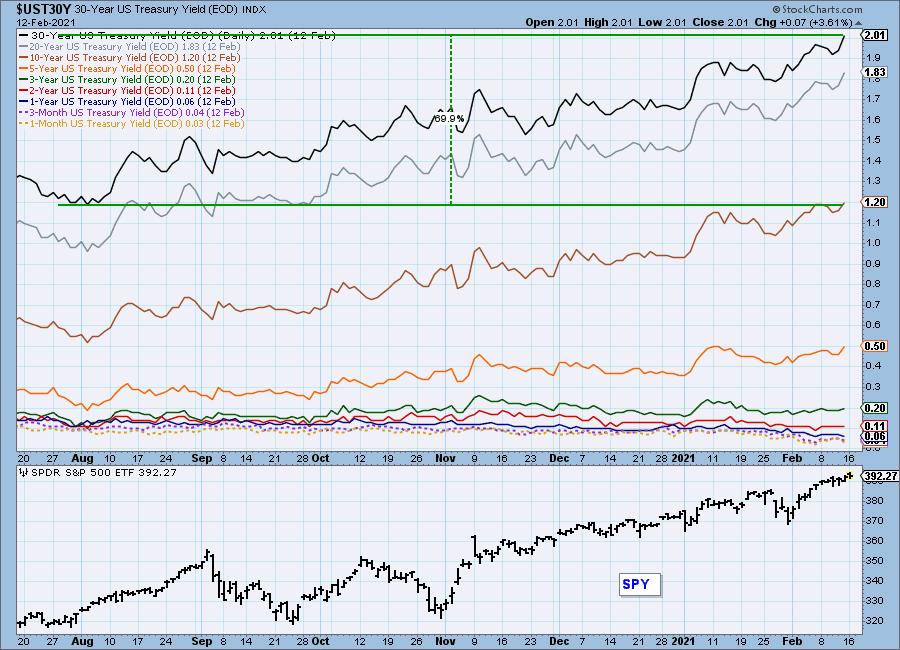 ---
---

---
In the longer-term perspective we can more clearly see the sharp uptick in long rates (the darker band at the top). We can't know if the long-term down trend is actually over, but for now the short-term trend is up.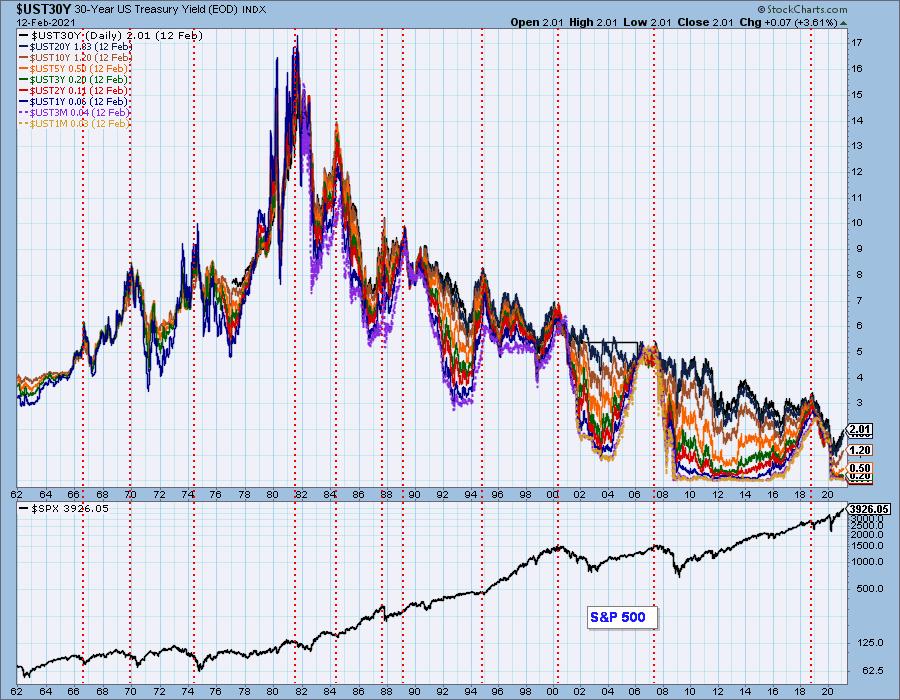 ---
Free DecisionPoint Trading Room on Mondays, Noon ET
David Keller, CMT, Chief Technical Analyst at StockCharts.com will be joining Erin in the free DP Trading Room on March 1st! Dave will give us his take on the market and share his trading methodologies as both of us discuss your symbol requests.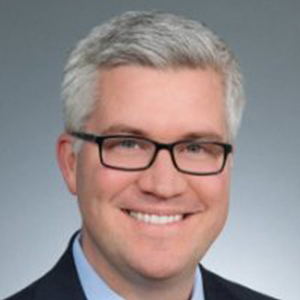 David Keller, CMT is Chief Market Strategist at StockCharts.com, where he helps investors minimize behavioral biases through technical analysis. He is a frequent host on StockCharts TV, and he relates mindfulness techniques to investor decision making in his blog, The Mindful Investor. David is also President and Chief Strategist at Sierra Alpha Research LLC, a boutique investment research firm focused on managing risk through market awareness. He combines the strengths of technical analysis, behavioral finance, and data visualization to identify investment opportunities and enrich relationships between advisors and clients.
***Click here to register for this recurring free DecisionPoint Trading Room on Mondays at Noon ET!***
---
As usual, I am concerned that rising long rates will affect the real estate market, which is once again vastly overpriced. Last week on the Fox Business channel, Dennis Gartman speculated that the rise in long-term rates could force the 30-year mortgage rate up a full percentage point by next year. Here's what that would mean.
People buy homes based upon how much the payment is per month, not the sales price, and falling rates have allowed sellers to raise home prices. But, when rates go up, the affordable home price will have to drop. For example, a mortgage rate of 2.75% results in a principal and interest payment of $2,041/month on a loan of $500,000. If mortgage rates go up to 3.75%, that same monthly payment will only work with a loan of $440,000, meaning that sellers will be taking a beating, and we'll be entering Financial Crisis v2.0. Admittedly, home builders are not anticipating anything of the kind.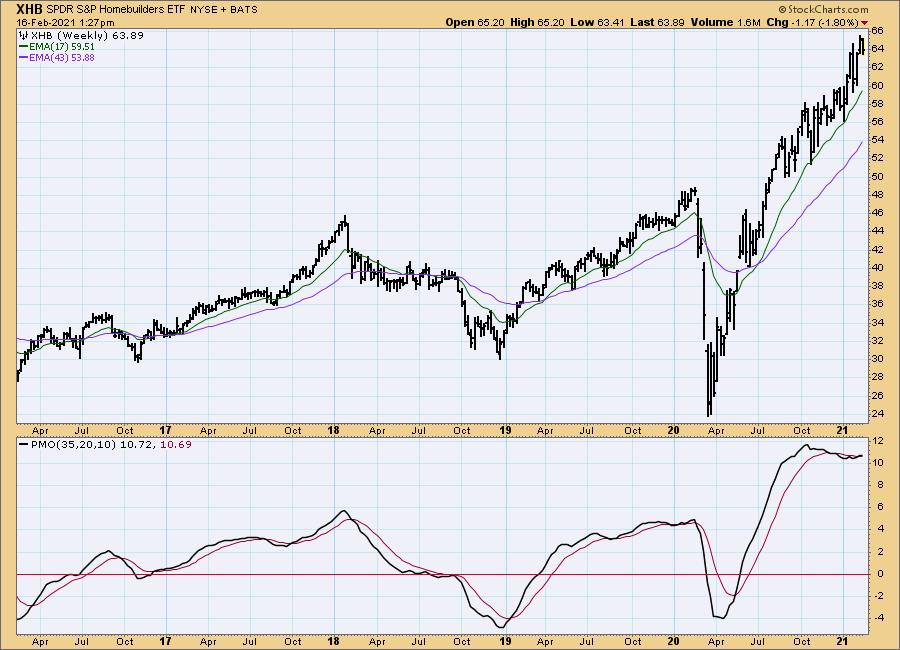 CONCLUSION: Not only is it not nice to fool Mother Nature, it really can't be done over time. While depressed interest rates and deficit spending may temporarily ease some pain, it ultimately just moves the pain down the road, where it will intensify as we set to the task of getting things back to normal.
---
Technical Analysis is a windsock, not a crystal ball.
--Carl Swenlin
---
Helpful DecisionPoint Links:
DecisionPoint Alert Chart List
DecisionPoint Golden Cross/Silver Cross Index Chart List
DecisionPoint Sector Chart List
Price Momentum Oscillator (PMO)
Swenlin Trading Oscillators (STO-B and STO-V)
---
DecisionPoint is not a registered investment advisor. Investment and trading decisions are solely your responsibility. DecisionPoint newsletters, blogs or website materials should NOT be interpreted as a recommendation or solicitation to buy or sell any security or to take any specific action.