When thumbing through the results from my scans, one of the characteristics that I look for is a breakout followed by a pullback toward that breakout point. If the stock is strong, it will continue higher with a bounce after a pullback. Just as I don't always see OBV positive divergences, many times I don't see stocks with the pullback.
Today I had three that pulled back today after breakouts. I am beginning to consider stocks from defensive sectors like Health Care, Real Estate and Utilities. I didn't pull the two Utility Sector stocks, but feel free to review them: ES and NGG. I prefer the selected "diamonds in the rough", but you may feel differently.
A note about yesterday's pick of BEP. It is an LP and therefore requires a Schedule K I believe. A subscriber wrote to tell me they have another symbol of BEPC that doesn't require the tax form.
Today's "Diamonds in the Rough" are: ABT, ANSS, CCI, IDN and PODD.
** HOLIDAY SCHEDULE 12/28 - 1/1 **
Diamonds:
Monday & Tuesday --Eleven Diamonds in the Rough (no reader requests).
Wednesday: Diamonds Recap & LIVE Diamond Mine Trading Room at 9:00a PT
DecisionPoint Alert:
Publishing Monday - Wednesday
Weekly Wrap - Thursday
** No reports will be sent 1/1 **
---
---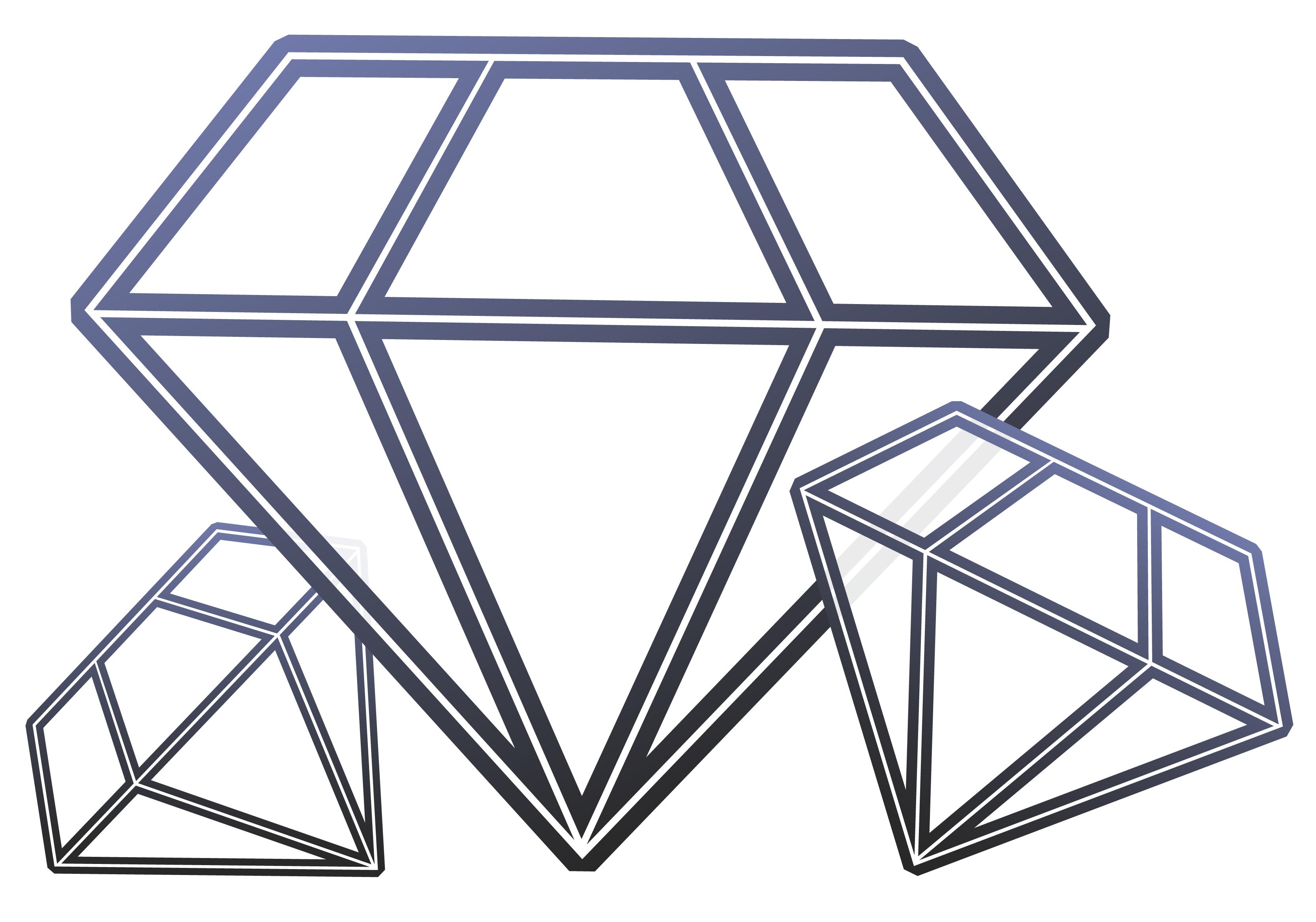 Diamond Mine Information:
Here is today's (12/23/2020) recording link. Access Passcode: 89JUgya&
Register in advance for the next "DecisionPoint Diamond Mine" trading room on Wednesday (12/30/2020) 12:00p ET:
Here is the registration link for WEDNESDAY, 12/30/2020. Registration & Entry Password: new-year
Please do not share these links! They are for Diamonds subscribers ONLY!
Save the registration confirmation email with login instructions in case Zoom doesn't notify you in time.
---
---

It's Free!
***Click here to register for this recurring free DecisionPoint Trading Room on Mondays at Noon ET!***
Did you miss the 12/28 free trading room? Here is a link to the recording. Access Code: #=5dJp=G
For best results, copy and paste the access code to avoid typos.
---
---
Welcome to DecisionPoint Daily Diamonds, wherein I highlight five "diamonds in the rough." These are selected from the results of my DecisionPoint scans, which search for stocks that could benefit from the trend and condition of the market. Remember, these are not recommendations to buy or sell, but are the most interesting of the stocks that surfaced in my scans. My objective is to save you the work of the initial, tedious culling process, but you need to apply your own analysis to see if these stocks pique your interest as well. There are no guaranteed winners here!
---
---
Abbott Laboratories (ABT)
EARNINGS: 1/20/2021 (BMO)
Abbott Laboratories engages in the discovery, development, manufacture, and sale of a broad and diversified line of health care products. It operates through the following segments: Established Pharmaceutical Products, Nutritional Products, Diagnostic Products, Cardiovascular and Neuromodulation Products, and Other. The Established Pharmaceutical Products segment refers to the international sales of a line of branded generic pharmaceutical products. The Nutritional Products segment caters to the worldwide sales of adult and pediatric nutritional products. The Diagnostic Products segment markets diagnostic systems and tests for blood banks, hospitals, commercial laboratories, and alternate-care testing sites. The Vascular Products segment trades coronary, endovascular, structural heart, vessel closure, and other medical device products. The Other segment comprises of Abbott Medical Optics. The company was founded by Wallace Calvin Abbott in 1888 and is headquartered in Abbott Park, IL.
Currently up +0.43%, I covered ABT in the April 16th Diamonds Report as a "reader request" that I was bullish on (up 12.8% since). It hasn't been doing much, but with the new PMO BUY signal and now positive RSI it could be ready for a breakout. You can set the stop tight. The OBV is rising while price bottoms are flat.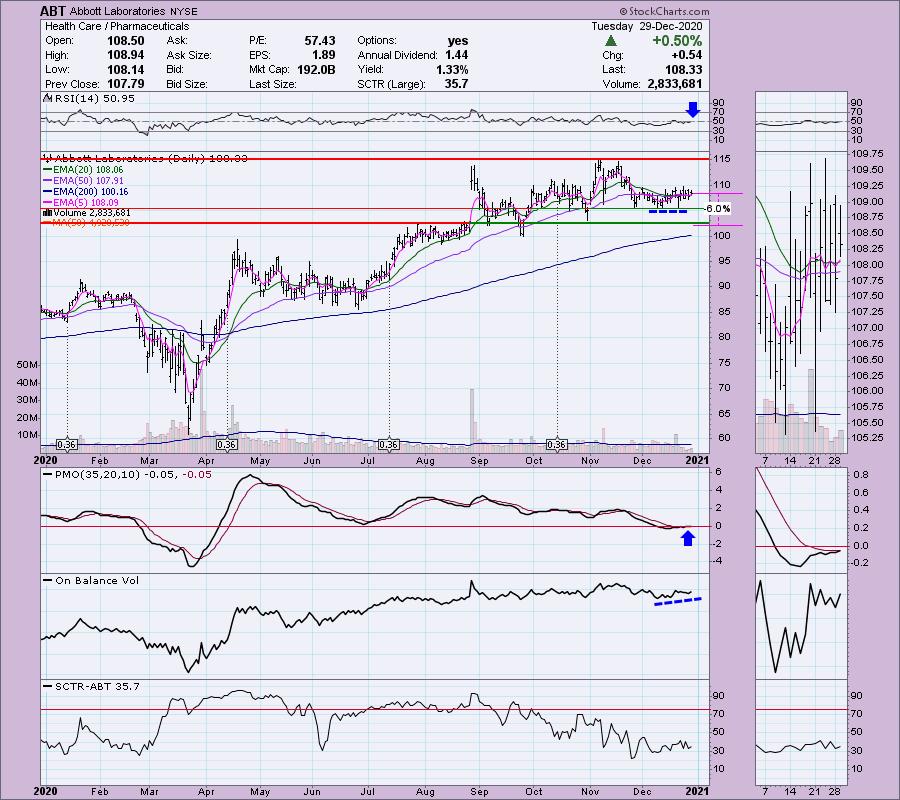 The weekly PMO is not good on the weekly chart, but we still have a positive RSI.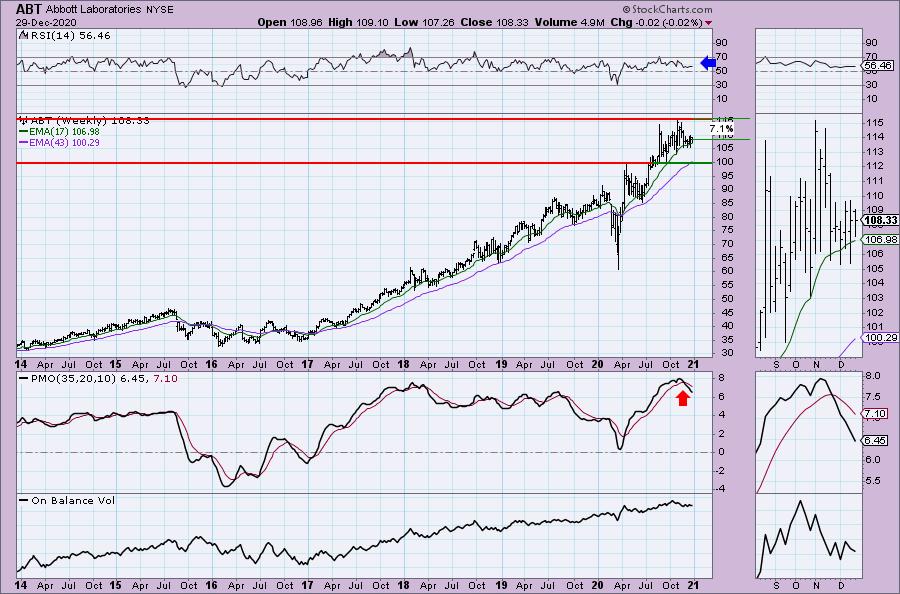 ---
ANSYS, Inc. (ANSS)
EARNINGS: 2/24/2021 (AMC)
ANSYS, Inc. engages in the development and marketing of engineering simulation software and services. It operates through the following geographical segments: United States; Japan; Germany; South Korea; France; China; Other EMEA; and Other International. The firm's solutions include automotive; aerospace and defense; construction; energy; materials and chemical processing; autonomous engineering; and electrification. The company was founded by John A. Swanson in 1970 and is headquartered in Canonsburg, PA.
ANSS is unchanged in after hours trading. Here is a breakout and a pullback. So far it is holding this new support level. The pullback cleared overbought conditions on the RSI but didn't really damage momentum. The PMO decelerated somewhat instead of turning down. You can set a tight stop on this one as well. I've lined it up with the 50-EMA. The SCTR has improved, but it is turning down on this pullback.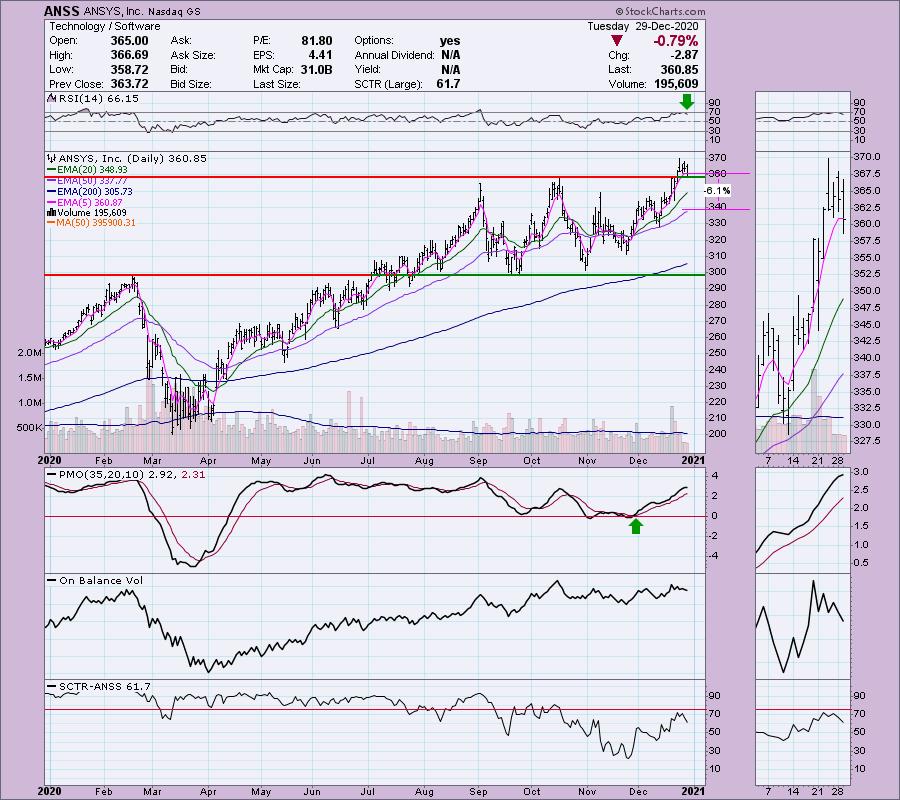 The weekly chart looks great with a PMO BUY signal and a positive RSI.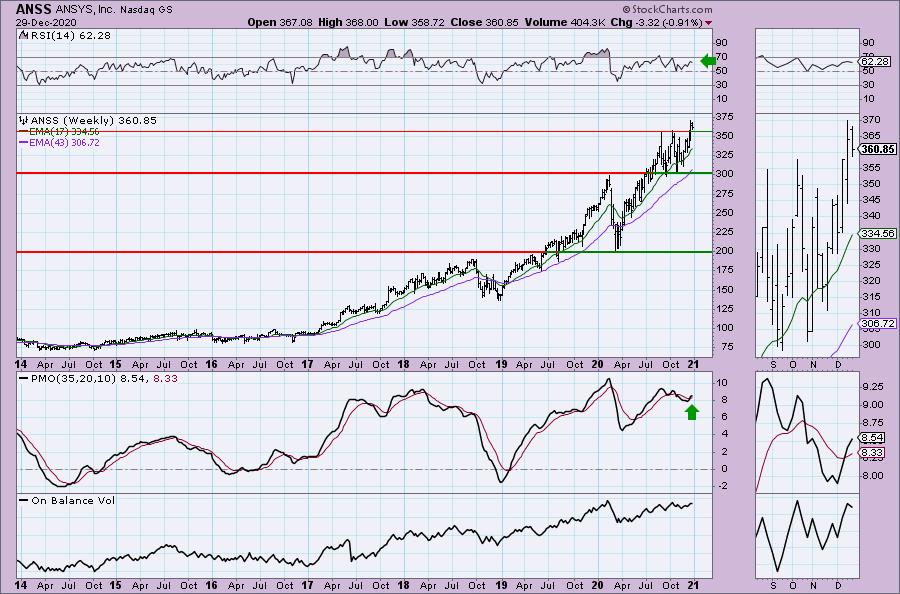 ---
Crown Castle Intl Corp. (CCI)
EARNINGS: 1/20/2021 (AMC)
Crown Castle International Corp. is a real estate investment trust company, which engages in the provision of access to wireless infrastructure via long-term contacts. It operates through the following segments: Towers and Fiber. The Towers segment offers access, including space or capacity towers dispersed throughout the United States. The Fiber segment covers access, including space or capacity of fiber primarily supporting small cell networks and fiber solutions. The company was founded by Ted B. Miller Jr. and Edward C. Hutcheson Jr. in 1994 and is headquartered in Houston, TX.
CCI is down -0.06% in after hours trading. I covered it in the April 9th Diamonds Report as a "reader request" that I was mostly neutral on (down -5.07% since). I would consider CCI as a bottom fish. I got this one from my Momentum Sleepers scan so something is building under the surface. The PMO is lining up for a BUY signal. The RSI is rising but unfortunately is still negative. As I said this is a bottom fish which is also why we have such a basement SCTR. Even though CCI has been in trading channel, we are now seeing a bounce off the bottom of the channel. This is also another one that you can set a tight stop on. I've set the stop along support at the two areas noted by the blue arrows.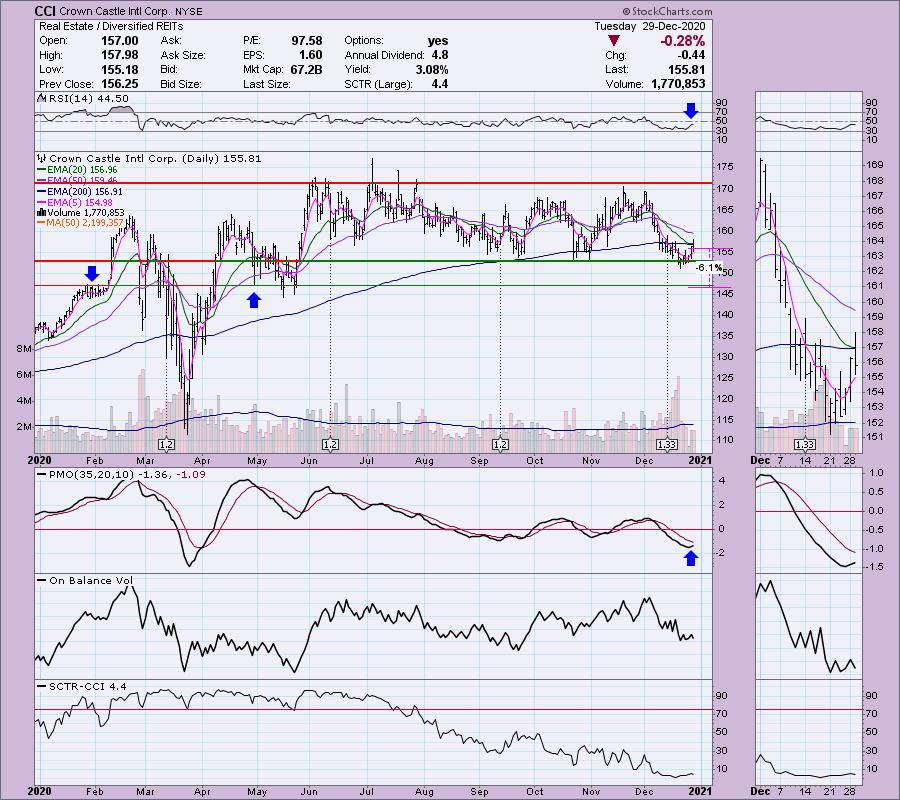 The weekly chart isn't great. The PMO is at least now in oversold territory, but it hasn't turned up yet...it is due to. The RSI is negative, but is rising again. If it can reach its 2020 high, that would be a gain of 14.2%.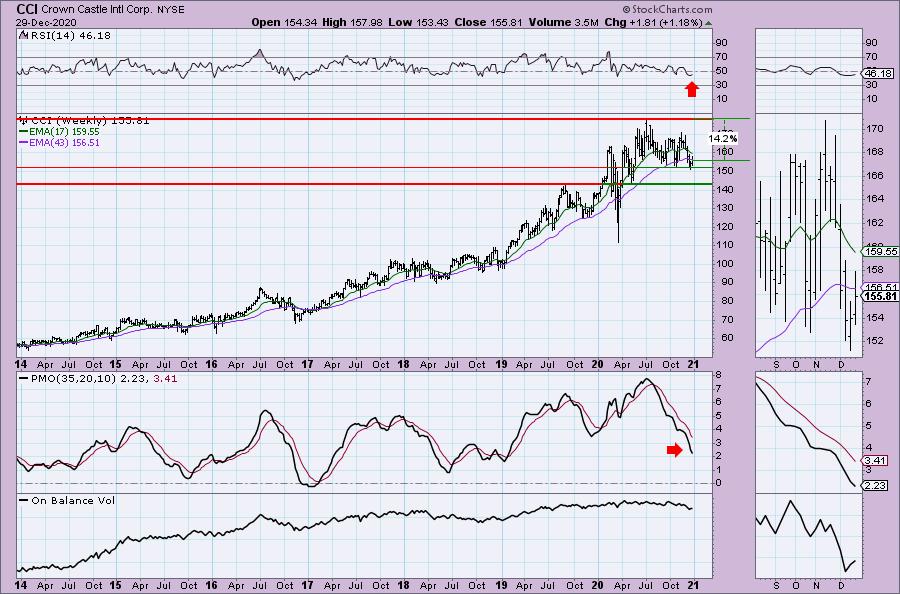 ---
Don't forget, on Thursdays I look at reader-requested symbols, so shoot me an email at erin@decisionpoint.com. I read every email I receive and try to answer them all!
---
Intellicheck, Inc. (IDN)
EARNINGS: 3/10/2021 (AMC)
Intellicheck, Inc. engages in the development, integration, and marketing of threat and identity authentication solutions. It offers professional services, retail, age, defense, guest, and port ID. The company was founded in 1994 and is headquartered in Melville, NY.
We may have just missed this one as it is up +8.29% in after hours trading, but given the positive chart, it could move higher. The PMO is nearing a crossover BUY signal. The RSI is positive and not overbought on this pullback after a breakout. The SCTR just reached into the "hot zone" above 75. I set the stop at the early November tops.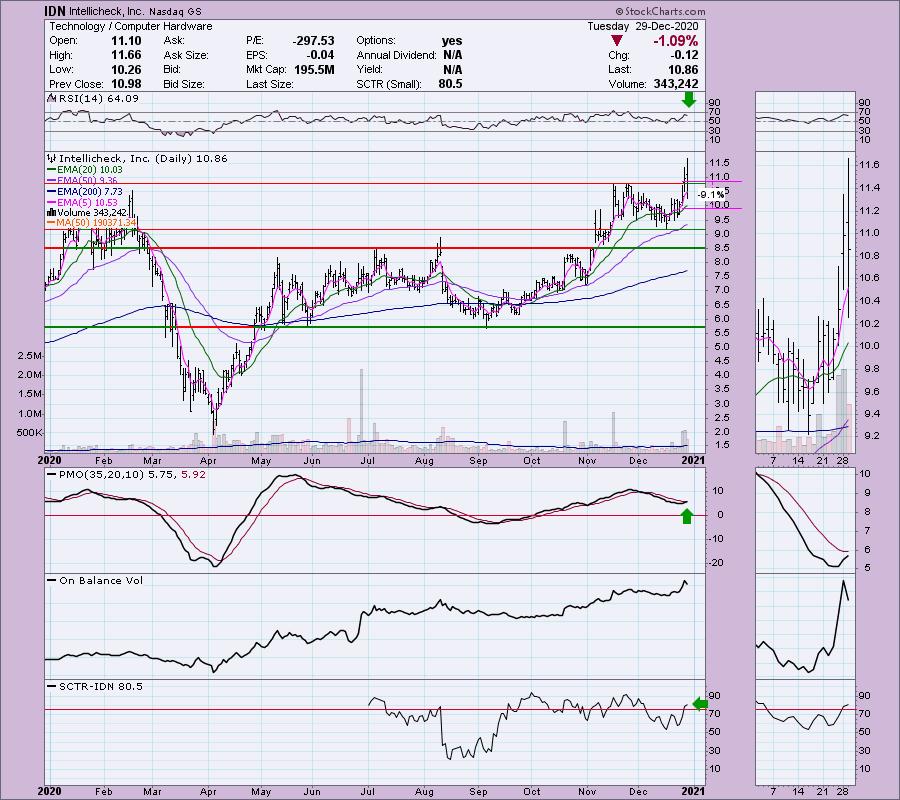 The weekly chart is very healthy with a positive RSI (albeit getting overbought) and a rising PMO which is somewhat overbought. I've marked the upside potential at the 2014 spike. Not so sure we'll get that much out of it, but it certainly is poised to perform.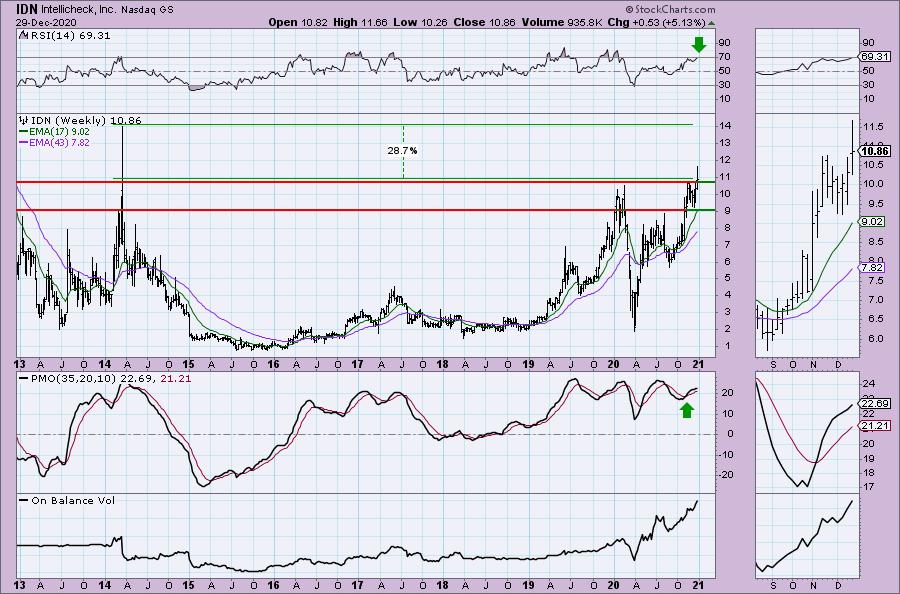 ---


Insulet Corp. (PODD)
EARNINGS: 2/23/2021 (AMC)
Insulet Corp. is a medical device company. The firm engages in the development, manufacture and marketing of an insulin infusion system for people with insulin-dependent diabetes. It specializes in diabetes supplies, including the OmniPod System as well as other diabetes related products and supplies such as blood glucose testing supplies, traditional insulin pumps, pump supplies, and pharmaceuticals. The company was founded by John L. Brooks III and John T. Garibotto in July 2000 and is headquartered in Acton, MA.
PODD is unchanged in after hours trading. I covered it in the June 16th Diamonds Report (up +41.7% since). Here we have an upside resolution of the bullish falling wedge. It has now formed a flag with the breakout being the flagpole and the last four days of trading as the flag. the PMO just had a crossover BUY signal and the RSI is positive and not overbought. The SCTR is respectable at 60.2, but it is trending higher and could hit the "hot zone" soon.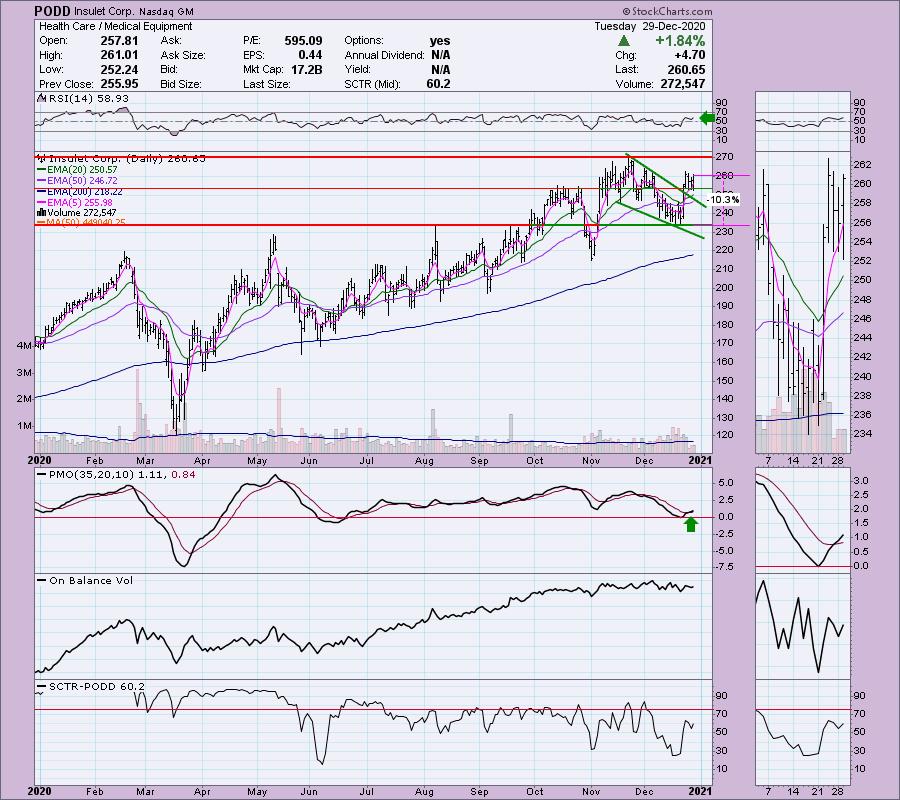 The weekly chart is favorable with a PMO that has reversed direction and should whipsaw back into a BUY signal. The RSI is positive and not overbought.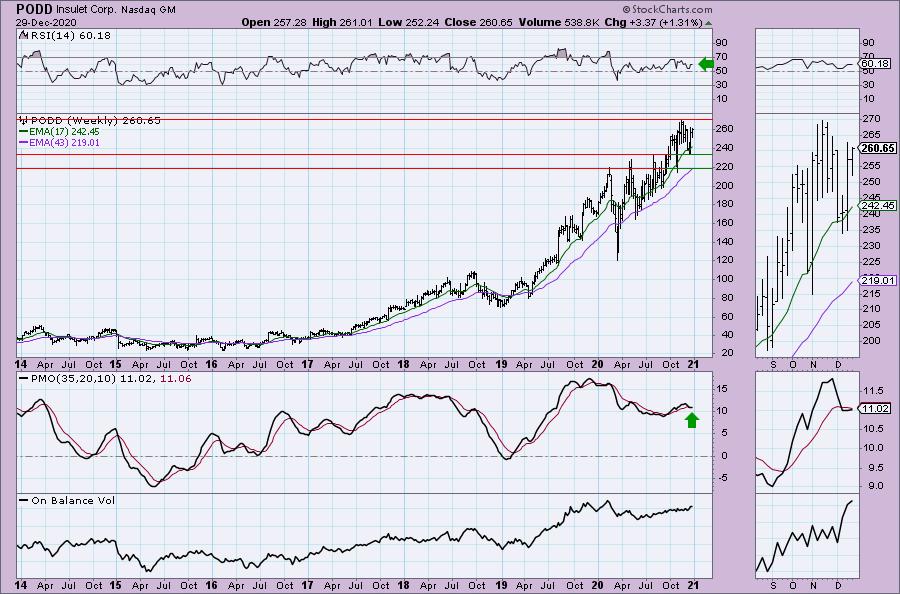 ---
Full Disclosure: I'm about 50% invested and 50% is in 'cash', meaning in money markets and readily available to trade with. I'm holding off adding any positions right now.
---
Current Market Outlook:
Market Environment: It is important to consider the odds for success by assessing the market tides. The following chart uses different methodologies for objectively showing the depth and trend of participation for intermediate- and long-term time frames.
The Silver Cross Index (SCI) shows the percentage of SPX stocks on IT Trend Model BUY signals (20-EMA > 50-EMA)
The Golden Cross Index (GCI) shows the percentage of SPX stocks on LT Trend Model BUY signals (50-EMA > 200-EMA)
The Bullish Percent Index (BPI) shows the percentage of SPX stocks on Point & Figure BUY signals.
Don't forget that as a "Diamonds" member, you have access to our GCI/SCI curated ChartList on DecisionPoint.com. You'll find it under "Members Only" links on the left side on the Blogs and Links Page.
Here is the current chart: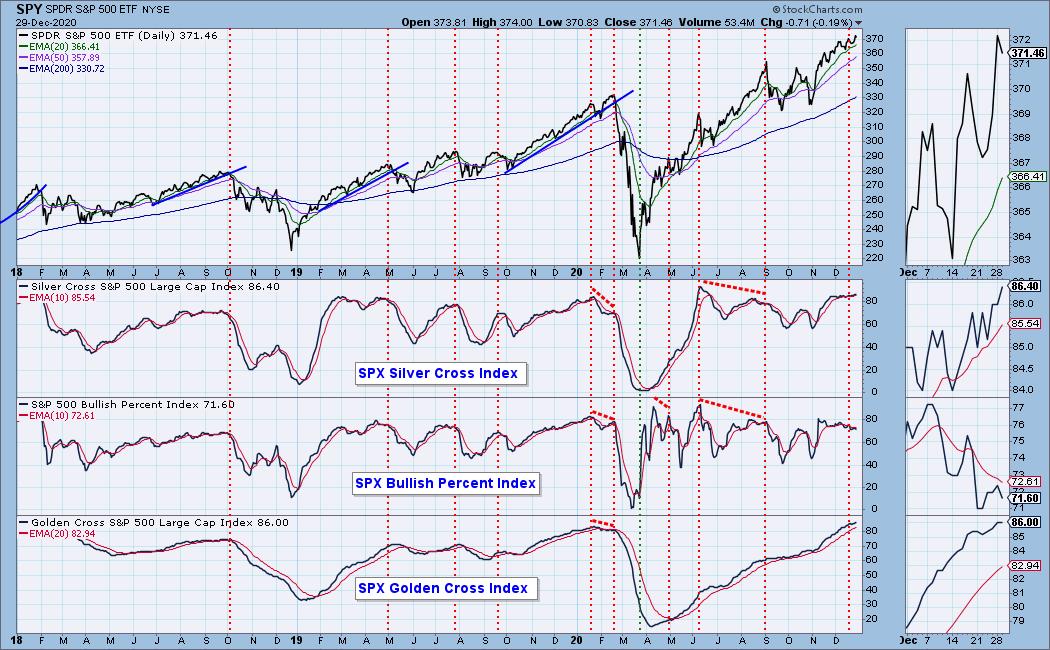 Diamond Index:
Diamond Scan Results: 3
Diamond Dog Scan Results: 8
Diamond Bull/Bear Ratio: 0.38
I'm in the process of trying to plot the Diamond Index, but with time at a premium, it is on the back burner.
Technical Analysis is a windsock, not a crystal ball.
Happy Charting!
- Erin
erin@decisionpoint.com
---
Watch the latest episode of DecisionPoint with Carl & Erin Swenlin on Mondays 7:00p EST or on the DecisionPoint playlist on the StockCharts TV YouTube channel here!
---
---
NOTE: The stocks reported herein are from mechanical trading model scans that are based upon moving average relationships, momentum and volume. DecisionPoint analysis is then applied to get five selections from the scans. The selections given should prompt readers to do a chart review using their own analysis process. This letter is not a call for a specific action to buy, sell or short any of the stocks provided. There are NO sure things or guaranteed returns on the daily selection of "diamonds in the rough."
---
Helpful DecisionPoint Links:
DecisionPoint Shared ChartList and DecisionPoint Chart Gallery
Price Momentum Oscillator (PMO)
Swenlin Trading Oscillators (STO-B and STO-V)
For more links, go to DecisionPoint.com!