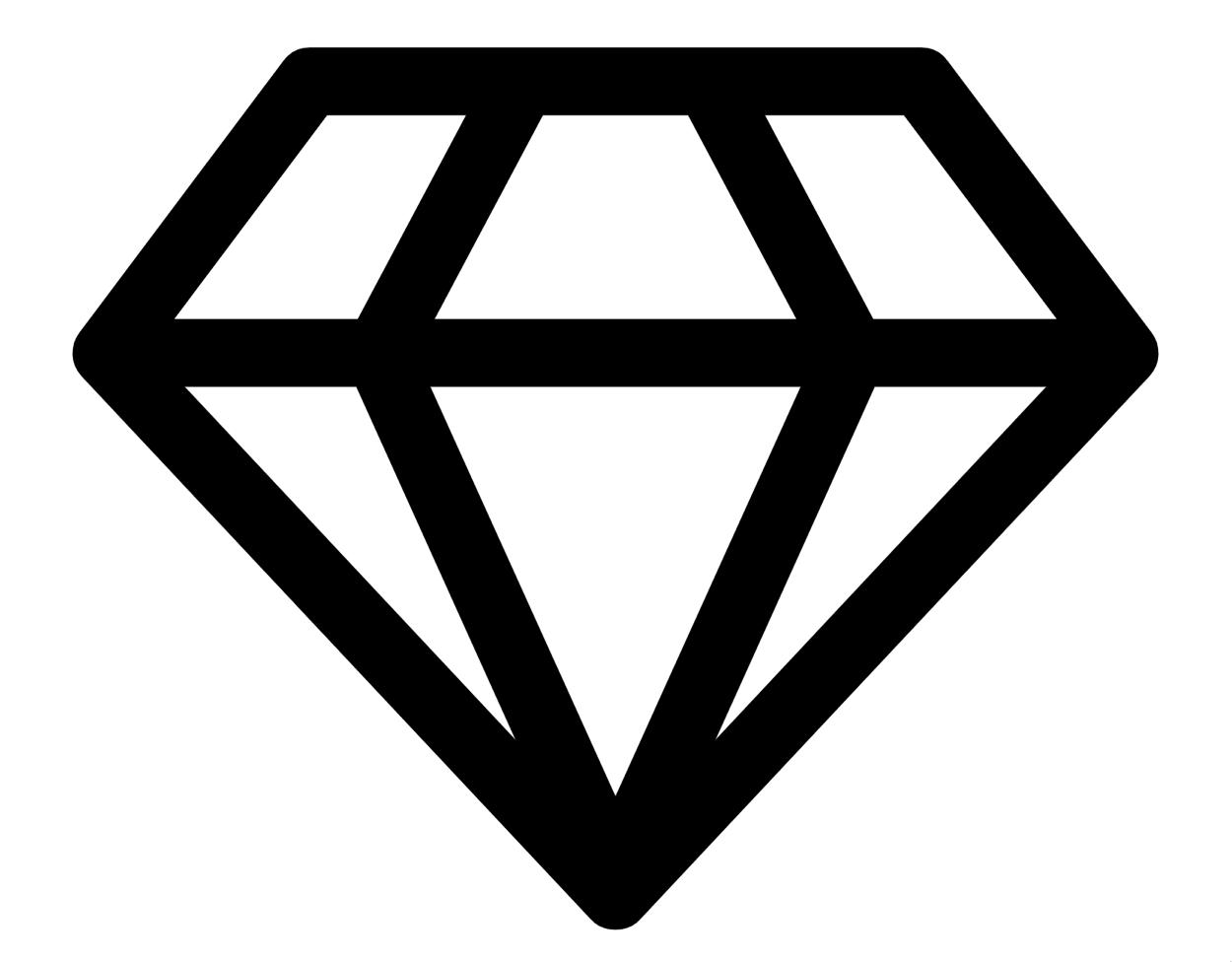 Many of my colleagues have been noting the hot Home Builders industry group. I found a Building Materials stock that could be benefiting from this and have also included a Home Builder stock as well. I wrote about the Home Builders group last week in this article, where I spotlighted some of the stocks that were coming up on my scans. Today, I am repeating Beazer Homes (BZH) as I still like the chart and it was a result on my Diamond Scan. I've received email from many of you asking me what my "mission" is for these reports. I think it's fairly clear in the fine print, but ultimately I want readers to be able to use these reports as an opportunity to hone their analysis techniques by seeing what I look for in a prospective investment. The last email I received read "Hopefully you'll be bullish and buying soon...". My response was "me too"!
---
I love to get your feedback on DP commentary, so shoot me an email at erinh@stockcharts.com. I read every one of them and try to answer them all! Your insight helps me to tailor my commentary to what my readers and viewers want to hear about.
---
Welcome to "DecisionPoint Daily Diamonds", a newsletter in which I highlight five "diamonds in the rough" taken from the results of one of my DecisionPoint scans. Remember, these are not recommendations to buy or sell, but simply stocks that I found interesting. The objective is to save you the work of the initial, tedious culling process, but you need to apply your own analysis to see if these stocks pique your interest as well. There are no guaranteed winners here!
---
Current Market Outlook:
Market Trend: Currently, we have Trend Model BUY signals in all three timeframes on the DP Scoreboard Indexes.
Market Condition: The market is overbought, with Price Momentum Oscillator (PMO) BUY signals on the DP Scoreboards. Remember, overbought conditions can persist in a bull market.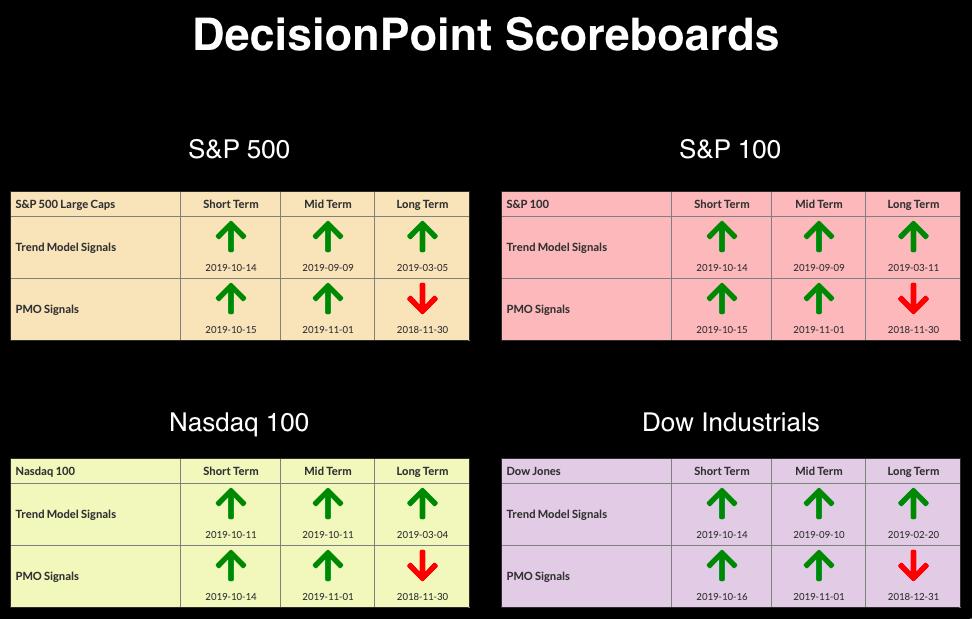 Market Environment: It is important to consider the odds for success. The Silver Cross Index measures the percentage of stocks on IT Trend Model BUY signals (20-EMA > 50-EMA), while the Golden Cross Index measures the percentage of stocks on LT Trend Model BUY signals (50-EMA > 200-EMA). Here are the current percentages on the Silver and Golden Cross Indexes:
Diamond Index:
Diamond Scan Results: 9
Diamond Dog Scan Results: 23
Diamond Bull/Bear Ratio: 0.78
---
Beazer Homes USA Inc (BZH) - Earnings: 2/3 - 2/7/2020
Home Builders do seem to be enjoying a nice rally and BZH is now too, following an exceptional breakout on volume last week. Since then, price has been consolidating the move. This could be the right time to enter. The PMO hasn't been damaged by the pause, as it is still rising and getting close to a crossover BUY signal. Despite the deep decline from mid-October to mid-November, the SCTR has remained in the "hot zone" above 75. This looks like a flag formation in the short term, with the recent breakout as the flagpole. However, you can see a larger one where the rally begins in July, with the flag being the decline.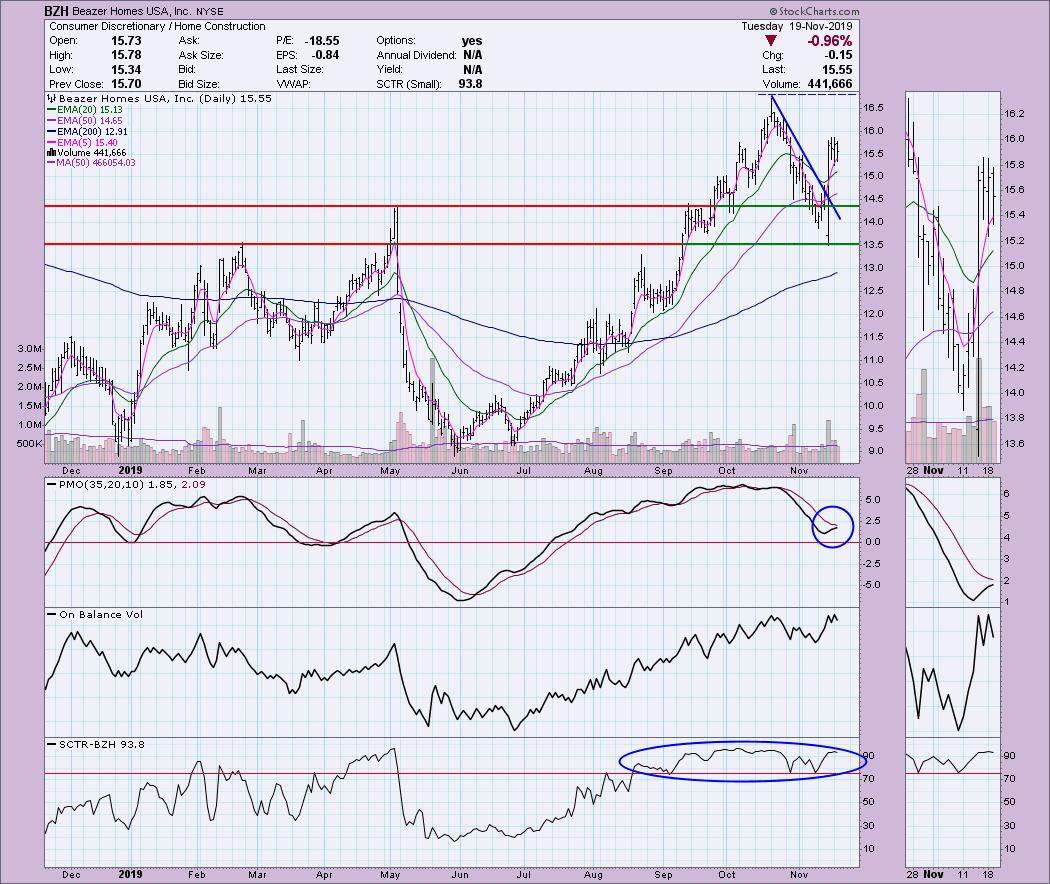 The weekly PMO is getting overbought, but I like the double-bottom pattern that has formed. After the breakout above the confirmation line, price retraced. We now see a bounce that has brought price back above the confirmation line. I still think this pattern is viable. The minimum upside target is $20.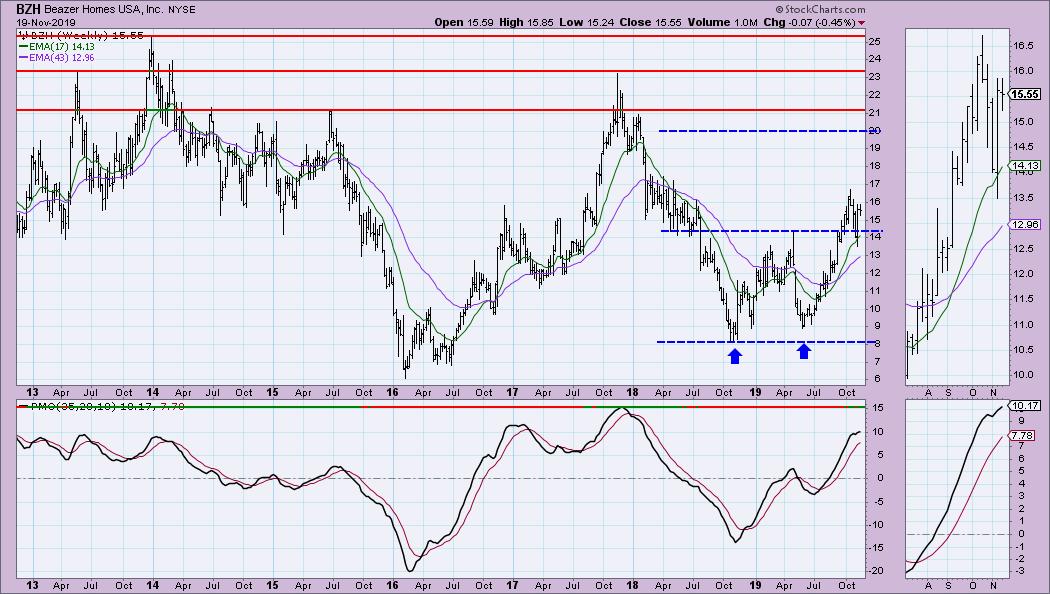 ---
Dorian LPG Ltd (LPG) - Earnings: 10/31/2019
LPG has been in a nice rising trend channel and has now actually pushed above it. Price broke out and closed above previous overhead resistance. The OBV is confirming this breakout as it rises above its previous top. The SCTR has spent much of its time in the "hot zone." It was a big upside move today, so we may need to see a pullback before a continuation.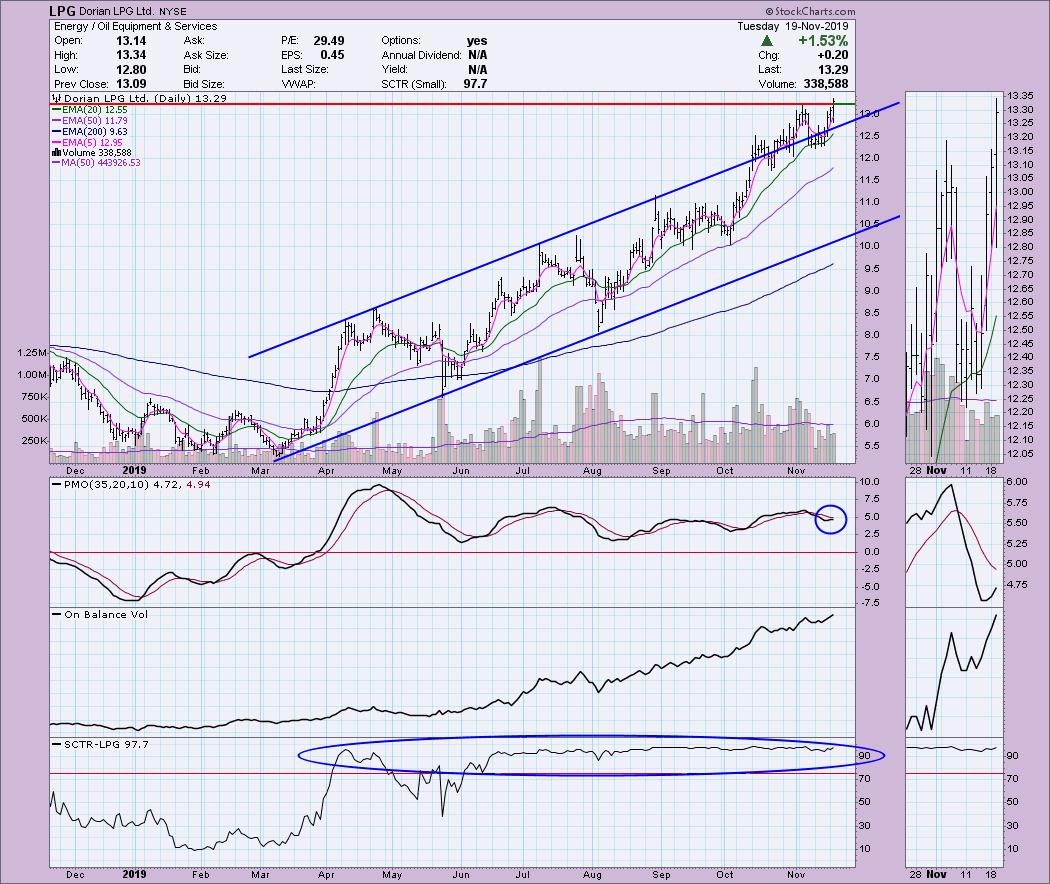 There could be some overhead resistance at $14 that lines up with the top from 2015, but it is more likely the higher top in mid-2015 will be the real challenge. There isn't a full set of weekly data here, so the weekly PMO could be extraordinarily overbought. That said, I don't think it has really established a range just yet, so the PMO could move higher.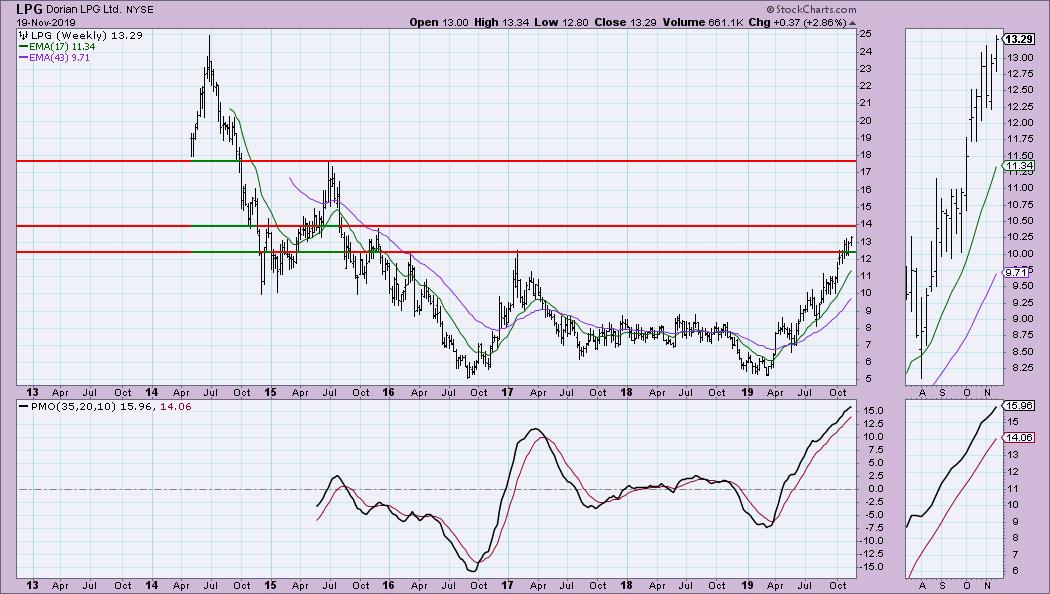 ---
Natera Inc (NTRA) - Earnings: 11/6/2019
This one has been in a strong rising trend channel most of this year, which is why the PMO has been mostly flat. Price still hasn't broken out above the October high, but the PMO suggests it will. My main concern would be the big upside move today and the need for a pullback. A pullback to the bottom of this rising trend channel is a risk. The SCTR is excellent and suggests relative and internal strength.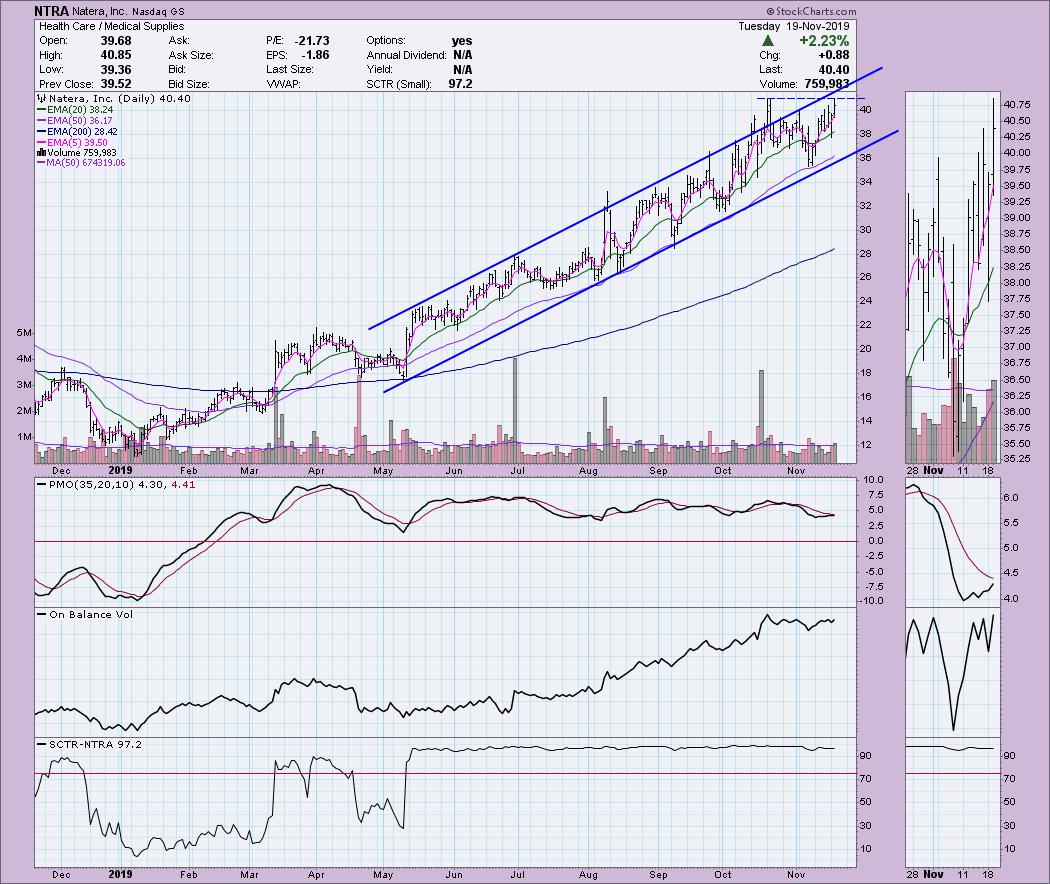 This one also is slim on data, but, given what we do have, we know that the PMO isn't really overbought yet.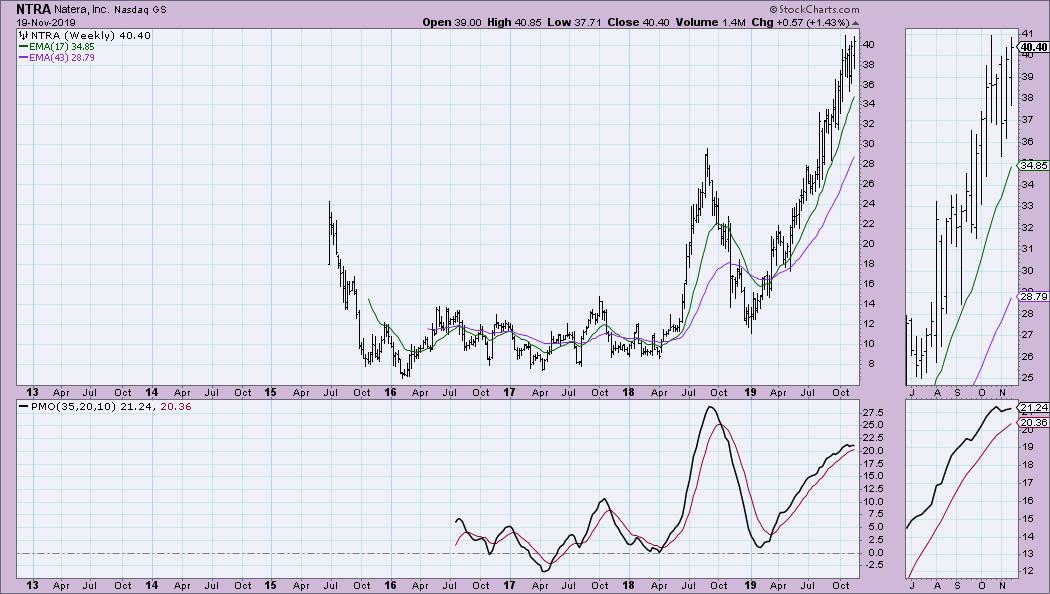 ---
Seagate Technology Holdings Inc (STX) - Earnings: 2/3 - 2/7/2020
STX has been in a rising trend channel, which I suspect will continue to be based on the rising OBV and PMO nearing a BUY signal. The SCTR looks healthy as well. I like that price has pulled back to $59, which I believe could be the area for a bounce back up. The risk here is that the bottom of the rising trend channel will be tested before the intermediate-term rally starts up again.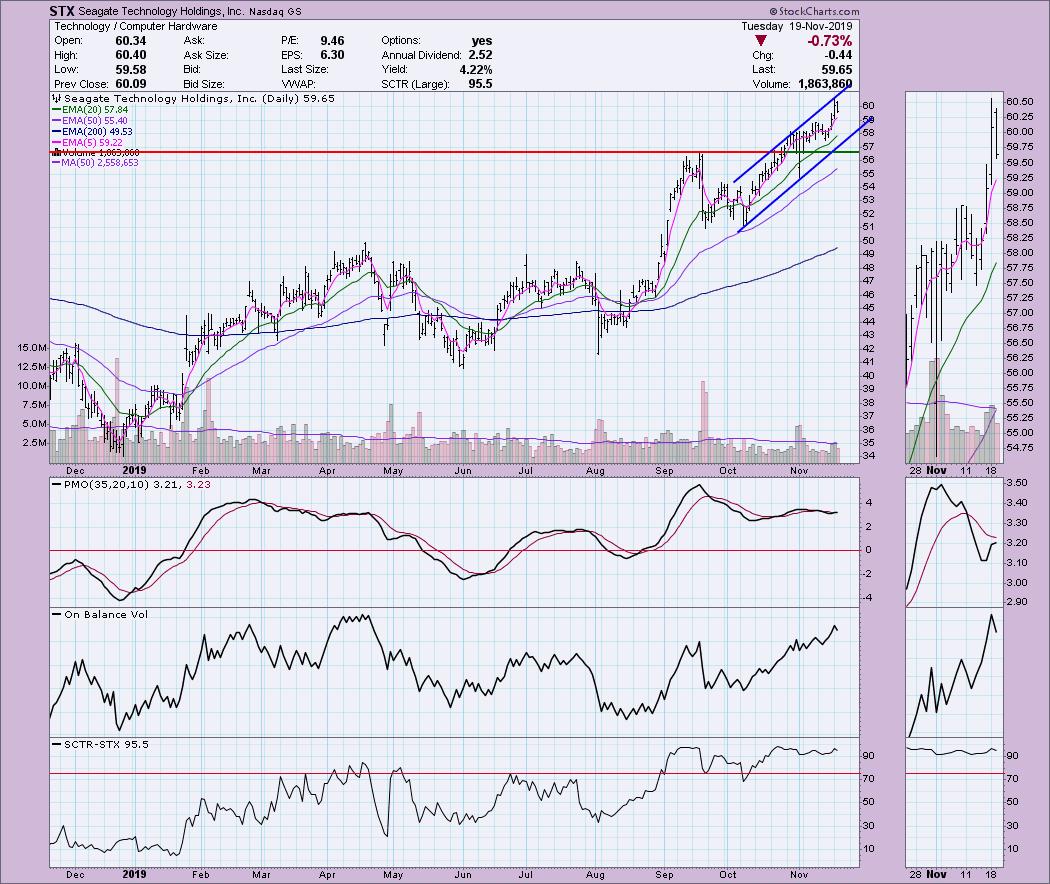 The weekly PMO is not overbought and the breakout looks great.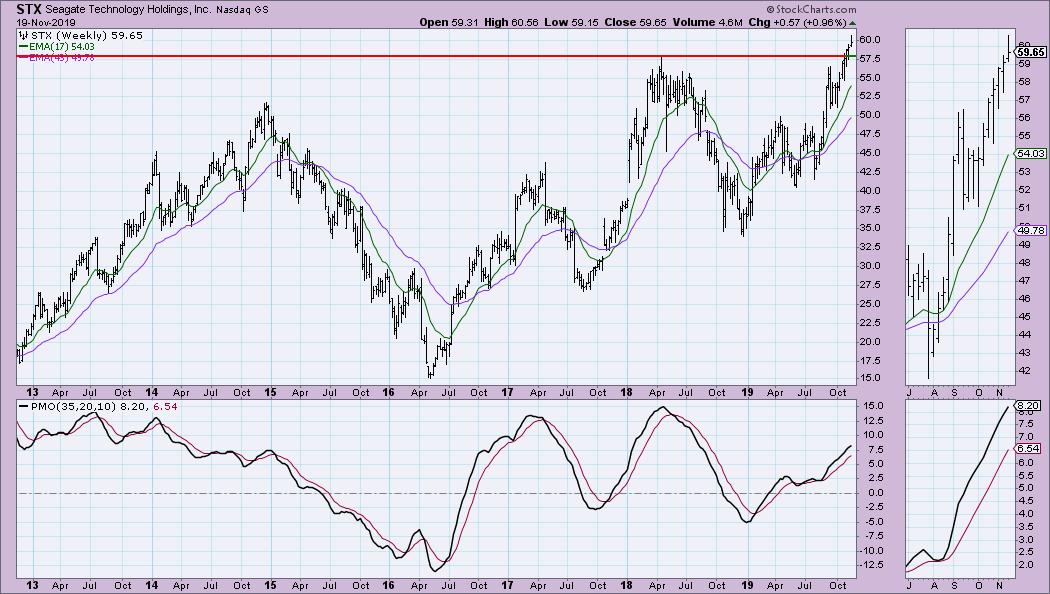 ---
Summit Materials Inc (SUM) - Earnings: 2/4 - 2/10/2020
It's been a rocky road for SUM since September, but it appears ripe for a breakout. The PMO is just about ready to trigger a BUY signal and volume has been increasing the last couple of days on this current rally. This is a volatile stock, so you'll need to be comfortable with big swings in price. I'd like to see a small pullback on this one before I'd enter. We will also want to see if the OBV sets a higher high after a breakout from the October top.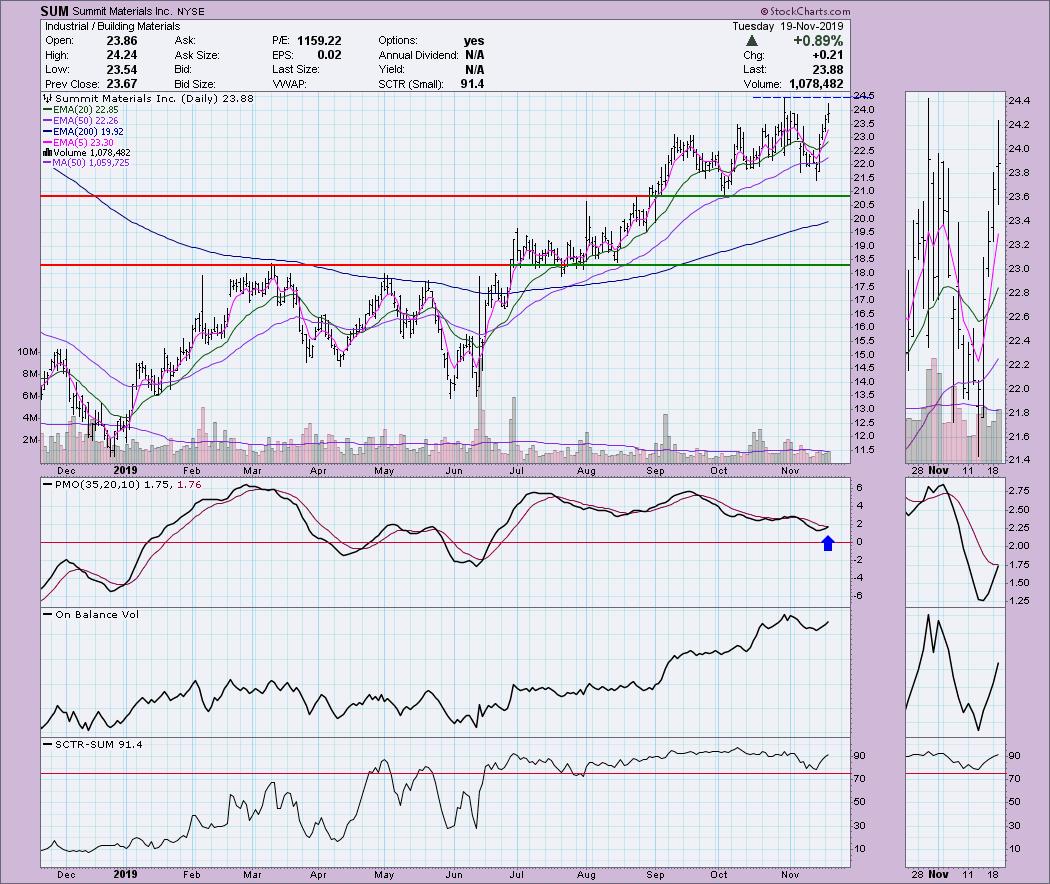 This is another one with a lack of data for the weekly PMO. However, I do note that we have seen readings in the -17.5 area and we are currently at just under 10. I believe it could go higher with price.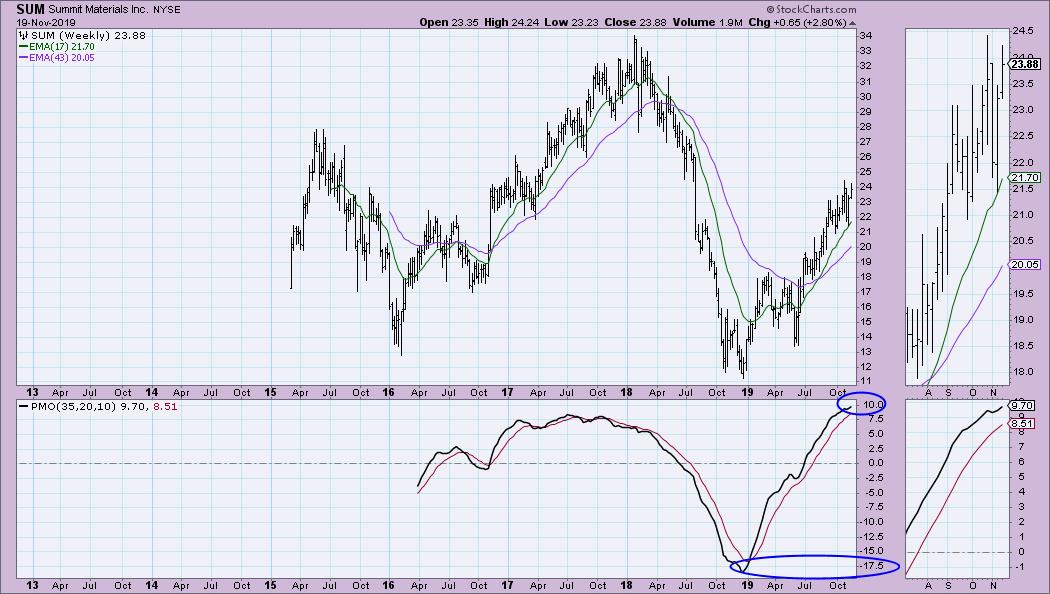 ---
Full Disclosure: I do not own any of the stocks above and I'm not planning on adding any at this time. While I can't guarantee that I won't add any, I can say that 99% of my investments come from my scans, so I am showing you my actual candidates. I'm currently about 80% in cash.
---
Special Announcement!
I will be presenting at the "Market View 2020" online conference on January 4th! It is sponsored by EarningsBeats.com and promises to be "THE" event to start the new year. We will have many of the commentators that you love presenting their "market view" for 2020, with John Murphy as the keynote speaker! For information on the event, sign up for the free emails that will give you all the details as we get closer!
---

Erin Swenlin will be presenting at the The MoneyShow Las Vegas May 11-13, 2020! You'll have an opportunity to meet Erin and discuss the latest DecisionPoint news and Diamond Scans. The conference is free to attend or view online!
---
Watch the latest episode of DecisionPoint with Carl & Erin Swenlin LIVE on Mondays 5:00p EST or on the StockCharts TV YouTube channel here!
---
Technical Analysis is a windsock, not a crystal ball.
Happy Charting!
- Erin
erinh@stockcharts.com
---
---
NOTE: The stocks reported herein are from mechanical trading model scans that are based upon moving average relationships, momentum and volume. DecisionPoint analysis is then applied to get five selections from the scans. The selections given should prompt readers to do a chart review using their own analysis process. This letter is not a call for a specific action to buy, sell or short any of the stocks provided. There are NO sure things or guaranteed returns on the daily selection of "diamonds in the rough."
---
Helpful DecisionPoint Links:
DecisionPoint Shared ChartList and DecisionPoint Chart Gallery
Price Momentum Oscillator (PMO)
Swenlin Trading Oscillators (STO-B and STO-V)
---
**Don't miss DecisionPoint Commentary! Add your email below to be notified of new updates"**